Colway Night care cream C005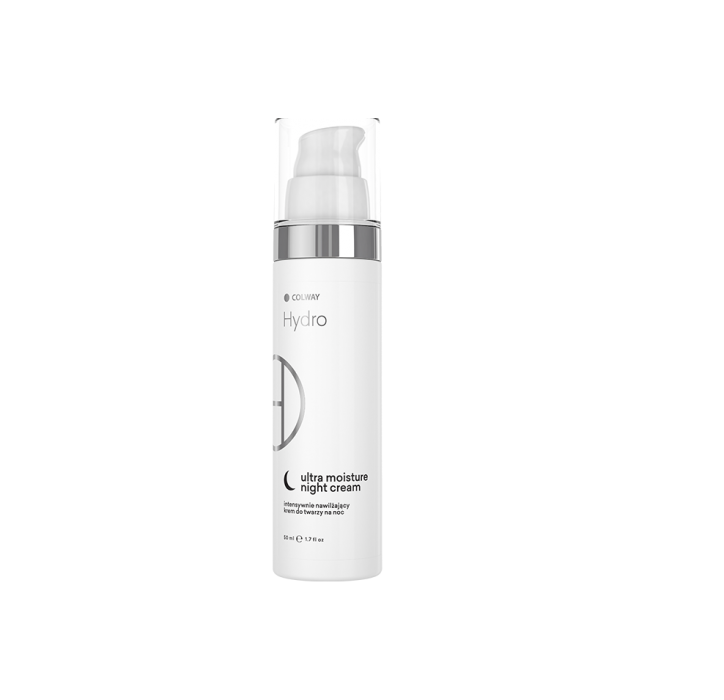 | | |
| --- | --- |
| brand | Colway |
| delivery | in stock |
€ 82,60
€ 0,-
€ 17,35
€ 0,-
0%
21%
0%
€ 99,95
description
Night care cream Colway
At night while sleeping, your skin most effectively absorbs the ingredients provided by skincare cosmetics. The unique formula of the cream has been formulated to ensure optimal regeneration of the skin. Collagen, hyaluronic acid, red macroalgae and sea minerals take care of the need for deep hydration. Jojoba oil, rich in phytosterols and vitamins, regenerates and gives the skin exceptional softness. Unsaturated fatty acids and moringa oil protect against oxidation and perfectly nourish. You can sleep peacefully and your cream will work during this time!
Components:
Collagen extracted from fish skin by a method patented in Poland is a known natural source of peptides that freely penetrate the epidermis and stimulate fibroblasts to increased activity. This is a natural, hypoallergenic anti-aging cosmetic. It does not fight the effects, but strikes at the cause of wrinkles - i.e. collagen deficit. It slows down the aging processes by moisturizing, making the skin elastic and regenerating.
Red macroalgae Kappaphycus alvarezii (Sea Moist Complex®) is a synergistic combination of macroalgae, sea water and glycerin, showing an extremely strong moisturizing effect. Regulates hydration and skin homeostasis.
SK-influx concentrated mixture of different types of ceramides, free fatty acids and phytosphingosine is an excellent conditioning additive with unique reconstruction abilities;
Jojoba oil protects against excessive water loss, gives a smooth and non-greasy finish. Thanks to vitamin E, it regenerates and has antioxidant properties. Recommended for dry skin with damaged epidermal lipid layer. It works comprehensively, effectively moisturizes and softens, soothes inflammation, nourishes, protects against wrinkles caused by dry skin.
Marine Filling Spheres TM collagen microspheres and glycosaminoglycans having the ability to penetrate into the deeper layers of the epidermis. As a result of contact with water, they swell and increase their volume, filling in wrinkles and lines. Thanks to them we obtain the effect of smoothing, moisturizing and rejuvenating the skin.
Moringa butter obtained from moringa oil, has very good moisturizing and nourishing properties; is a natural antioxidant with exceptional smoothing and softening properties;
Xylitol and Lactitol regenerate and maintain the balance of the skin's ecosystem, supporting the growth of beneficial bacteria, while destroying pathogenic ones. The composition of these two ingredients helps combat skin problems that occur with microbial imbalances.
Benefits:
deep penetration, which deeply nourishes the skin
stimulates collagen synthesis, makes the skin soft and elastic
stimulates the natural regeneration of the skin, regulates skin nutrition processes
refreshes the skin
can support wrinkle reduction processes
moisturizing retains moisture inside the skin and protects it from loss in adverse weather conditions
increases skin elasticity
can support other anti-wrinkle processes
How to use
Gently spread the cream on cleansed face and neck. We recommend using it every day before night rest.
INCI composition
Aqua, Jojoba Esters, Caprylic / Capric Triglyceride, C13-15 Alkane, Methylpropanediol, Cetearyl Alcohol, Cetearyl Olivate, Squalane, Vegatable Oil Esters of Moringa Olivate, Olea Europaea (Olive) Fruit Oil, Sorbitan Olivate, Kappahycus Alverezii, Extract Europaea (Olive) Oil Unsaponifiables, Hydrogenated Vegetable Oil, Collagen, Ceramide 3, Ceramide 6 II, Ceramide I, Phytosphingosine, Cholesterol, Lactitol, Xylitol, Atelocollagen, Sea Water, Ascorbyl Palmitate, Phytosterols, Glycerin, Ascorbic Acid, Sorbitan Palmitate Palmitate, Sorbitan Oleate, Sodium Lauroyl Lactylate, Ceteareth-25, Sodium Chondroitin Sulfate, Butylene Glycol, Silica Dimethyl Silylate, Pentylene Glycol, Pentaerythrityl Tetraisostearate, Sorbitan Isostearate, Glyceryl Stearate, Polysorxyethyl Acrylate Acrylate 60 - 8, Xanthan Gum, Elastin, Lactic Acid, Citric Acid, Caprylyl Glycol, Phenylpropanol, Parfum .