Natural Shea Butter Body Scrub GINGER and LEMONGRASS Orientana OR050


| | |
| --- | --- |
| brand | Orientana |
| delivery | in stock |
description
Natural Shea Butter Body Scrub GINGER & LEMONGRASS
200 gr
Salt and sugar body scrub absed on shea butter, enriched by jasmine oil and green tea extract. Our body scrub lifts away dead skin cells, stimulate skin surface microcirculation, makes skin soft and smooth, makes skin moist and slightly lubricated. Try this beautiful rose fragrance!
Effect:
- crystals of salt and sugar - to exfoliate and smooth the skin
- shea butter - nourishes the skin and improves its elasticity
- cocoa butter - soothes and regenerates
- ginger oil - improves blood circulation
- lemon grass oil - detoxifies and refreshing
Ingredients:
Ginger

We do not know the origin of ginger. Most probably it has come from the south of China from where it was delived to India. The historic sources say it has been used in China and India for more then 3000 years. Because of ginger's anti-inflammatory and anti-bacterial action, it may help keep skin clear. It may also help fight skin discolouration and aging. Ginger is highly-regarded as one of nature's best cellulite reducers. Our ginger comes from India.
Shea Butter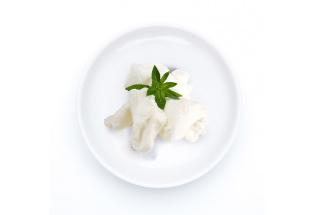 Shea butter is an ivory-colored fat extracted from the nut of the African Shea Tree. What makes Shea butter an extraordinary skin care and an amazing skinhealer is its richness in precious constituents, which include unsaturated fats, essential fatty acids, phytosterols, vitamin E and D, provitamin A and allantoin. All these are natural and make Shea butter a excellent food for your skin.
INCI:
INCI: Sodium Chloride, Sucrose, Butyrospermum Parkii Butter, Himalayan Salt (Sodium Chloride), Theobroma Cacao Seed Butter, Magnesium Sulfate, Sodium Bicarbonate (Sodium hydrogencarbonate), Glycerin, Aloe Barbadensis Leaf Juice, Olea Europaea Fruit Oil, Cymbopogon Schoenanthus Oil, Isopropylmyristate, Simmondsia Chinensis Seed Oil , Triticum Vulgare Germ Oil, Vitis Vinifera Seed Oil, Zingiber Officinale Oil, Citrus Limon Peel Oil , Citrus Limon Peel Oil , Citrus Sinensis peel Oil Expressed, Tocopherol.