Colway Atelokrem mc2 biomimetic-liquid crystal C003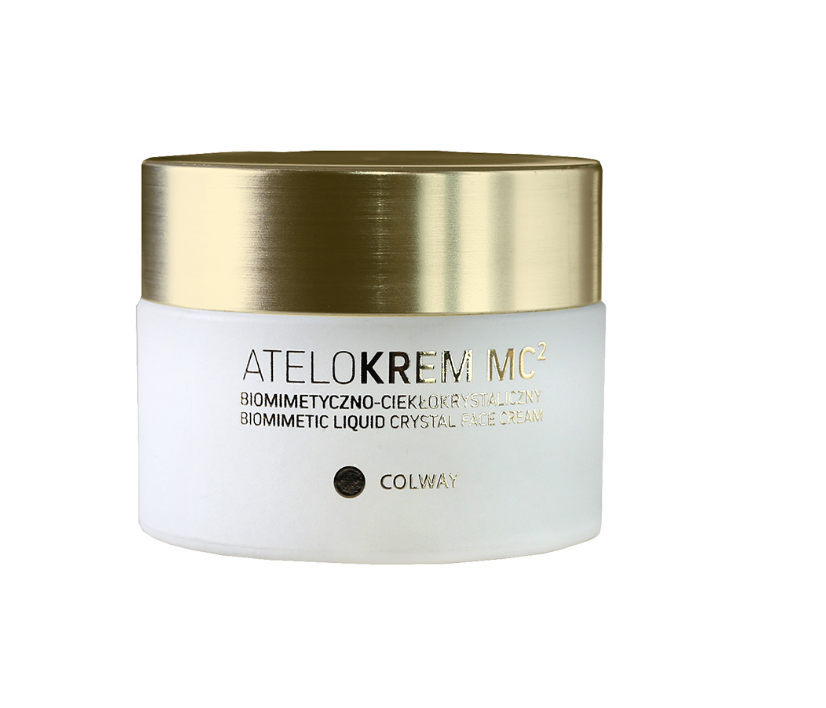 | | |
| --- | --- |
| brand | Colway |
| delivery | in stock |
€ 82,60
€ 0,-
€ 17,35
€ 0,-
0%
21%
0%
€ 99,95
description
Atelokrem MC2 biomimetic-liquid crystal
Atelokrem MC2 biomimetic-liquid crystal The first cream in the world that combines three groundbreaking discoveries in one product: biomimetics, liquid crystal system and atelocollagen in the service of cosmetology. Created "to the rescue" from the effects of smog, air conditioning, radiation of office equipment, environmental pollution, which dermatologists say have a very negative impact on our appearance and youth. Atelokrem MC2 is a cream in line with the urban trend. It helps stressed, tired skin, exposed to the harmful effects of the environment and the ever-increasing pace of life. Thanks to the new oleosome liquid crystal base, nutrients are fed gradually around the clock! Its 24-hour operation will make the skin perfect after waking up, even after a bad night's sleep.
Components:
Tropkolagen - is a nanoparticle, the basic structural unit of collagen. In the human body, tropocollagen is formed in fibroblasts and after they leave the dermis, it combines with other tropocollagen molecules, forming collagen fiber networks that form the so-called collagen mesh constituting the scaffold for cell renewal. Deficiency of tropocollagen leads to a decrease in strength, elasticity, elasticity and strength of the skin, as a result of which it loses its natural properties.
Atelocollagen - is designed to smooth our skin, give it elasticity and reduce wrinkles. In addition, it moisturizes the deepest layers of the skin, because the sericin contained in it - liquid silk and non-ionic gold perfectly penetrate into its deepest layers. All three types of collagen have very high transdermalities, i.e. they have properties that allow them to penetrate wherever the skin most needs an additional dose of collagen.
Procollagen - the most youthful form of collagen. It is a form of collagen with a unique amino acid composition.
Liquid silk (sericin) - strong water retention properties on and in the skin. Is a natural moisturizing factor. It creates a micro-film that stops the excretion of water from the skin. The skin breathes and the water does not leak. Protects against free oxygen radicals, reducing oxidative stress. It causes natural peeling of keratinized epidermis and accelerates the process of creating a new layer.
Elastin Easily penetrates deep into the skin, affects its elasticity. Smoothes wrinkles, regenerates and improves skin vitality.
Colloidal gold sensationally smoothes wrinkles. It stimulates the skin to produce collagen. Thanks to the use of gold, the skin becomes firm and supple. Becomes visibly younger after a short time of use.
Oil from damask rose petals - de-stresses the skin, softens and moisturizes it, deeply nourishes and makes it more elastic. Gives the skin a long-lasting fragrance.
Polypeptides (Arginine and Lysine) Lysine effectively supports protein synthesis and calcium absorption in the human body. Recommended for people fighting herpes.
Benefits:
light all-day cream - the active ingredients are evenly distributed around the clock "drip skin"
regenerating, nourishing and moisturizing effect
reduces wrinkles in the stratum corneum
prevents loss of skin elasticity
reduces signs of skin fatigue
for all skin types and ages
the oleosomal base structure of the cream is perfectly compatible with skin physiology
How to use
Apply in the morning to face, neck and cleavage after cleansing, gently massaging. In the case of stressed, very tired skin, it can be applied in the evening, also after cleansing the skin. Suitable for all skin types. Especially recommended for face, neck and cleavage skin care with first wrinkles and signs of fatigue and aging, as well as with uneven skin tone. Perfect for makeup.
INCI composition
Aqua, Triethylhexanoin, Isopropyl Isostearate, PPG-15 Stearyl Ether, Steareth-2, Glycerin, Isohexadecane, Steareth-21, Collagen, Cetearyl Acohol, Sodium PCA, Atelocollagen, Procollagen, Elastin, Arginine / Lysine Polypeptide A Collagen, Lagen , Caprylyl Glycol, Sodium Lactate, Pepsin, Tetrahydropiperine, Euterpe Oleracea Fruit Extract, Panax Ginseng Root Extract, Sodium Polyacrylate, Hydrogenated Polydecene, Trideceth-6, Potassium Sorbate, Phenoxyethanol, Ethylhexylglyceron, Alcoholic Alcohol.