Colway Collagen washing gel C002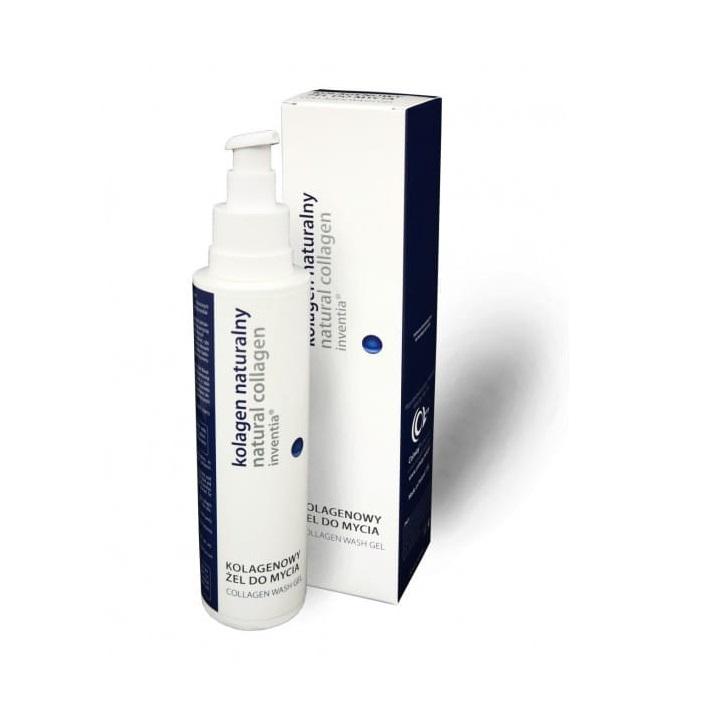 | | |
| --- | --- |
| brand | Colway |
| delivery | in stock |
€ 41,28
€ 0,-
€ 8,67
€ 0,-
0%
21%
0%
€ 49,95
description
Collagen Washing Gel Colway
Collagen Washing Gel will meet your expectations, this cosmetic contains only mild cleansing substances and plant components soothing irritations, softening and moisturizing the skin. This product perfectly cleans not only the skin of the face but also the whole body. Provides protection of the skin's natural protective barrier (hydro-lipid coat) and gives a feeling of comfort and safety of use. It is so gentle and safe that you can successfully use it to cleanse a baby's skin.
Components:
COLLAGEN - is a protein that constitutes about 30% of the total mass of human protein and as much as 70% of skin proteins. Collagen and elastin form a protein network in the dermis, which gives it elasticity and firmness, determining the condition of the entire connective tissue of the skin and largely about our biological age. In addition, collagen has an extraordinary ability to bind water, which affects the proper hydration of the skin. Decomposition products of tertiary fish collagen stimulate fibroblast activity, and thus also collagenogenesis processes. They regenerate, moisturize and firm the skin.
ALOE EXTRACT - contains saponins, substances with soothing, astringent, slightly disinfecting and washing properties; strengthens the skin and protects it from the harmful effects of external factors; provides moisture and nutrients, and also regulates the skin's natural pH level. Enzymes contained in aloe help remove dead epidermis cells and support its cell regeneration, thus contributing naturally to resisting skin aging.
EXTRACT FROM NONI - "Queen of Fruits" - an evergreen shrub reaching a height of 3 to 7 meters, with large, dark green, shimmering leaves. Noni is distinguished by its exceptional vitality and disease resistance and the plant itself can become very old. It has over 2000 years of medical and cosmetic history. It has always been considered a panacea with comprehensive healing, beautifying, improving well-being and energizing effects. Noni is also used in modern cosmetology - it protects skin cells from the harmful effects of the external environment, stimulates the division of keratinocytes and doubles the level of cellular respiration, adding energy and vitality to the skin.
D-PANTENOL - is biologically active; effectively stimulates cell growth and renewal, has strong healing properties in skin and mucous membrane damage; soothes irritations and allergic conditions. Increases skin moisture, makes it more elastic.
GLYCERINE - humectant, one of the most proven raw materials used for moisturizing the skin; it protects it naturally, penetrating into the intercellular spaces, where it binds the necessary amount of water. The presence of glycerin in synergy with collagen amino acids supports the functioning of life processes involving skin lipids; due to the use of glycerin, the dermis gains softness and the epidermis becomes more elastic in its deeper layers.
Benefits:
The only stabilizers used are antioxidants and substances standardized in food.
The best active substances were used, which cosmetologists usually reserve for leading anti-wrinkle creams.
The composition is based on plant extracts, fish collagen and substances compatible with the skin and mucous membranes - not damaging the water-lipid coat, the delicacy appropriate to the recipes of baby cosmetics.
The above-mentioned advantages were confirmed by the "Red-Blood-Cell" in vitro test in the standard of control of infant preparations.
Collagen face cleansing gel is in itself a cosmetic with proven effect on softening and smoothing the epidermis, moisturizing the dermis, stimulating regenerative processes and antioxidation.
How to use
Every morning and evening, apply a small amount of gel to your hands, add water, gently lather and gently massage the skin, remove makeup or dirt, then rinse thoroughly with water. Perfectly washes even waterproof makeup.
INCI composition
Aqua, Acetyl Tetrapeptide-5, Butylene Glycol, Collagen, Elastin, Collagen Amino Acids, Elastin Amino Acids, Algae Extract, Pullulan, Centaurea Cyanus Flower Extract, Glycerin, Caprylic / Capric Triglyceride, Dimethicone, Polyacrylate-13, Polyisorutut 20, Polysorbutene, Polysorbutene Isopropyl Isostearate, Isohexadecane, Sh-polypeptide-11, Pentylene Glycol, Aloe Barbadensis Leaf Extract, Propylene Glycol, Borago Officinalis Seed Oil, Tocopheryl Acetate, Panthenol, Allantoin, Phenoxyethanol, Benzoic Acid, Dehydroacetic Acid, Ethylethylamine, Glyceryl Stearate, Polyglyceryl-3 Methylglucose Distearate, Palmitic Acid, Stearic Acid, Squalane, Cetyl Alcohol, Lecithin, Myristyl Alcohol, Lauryl Alcohol, Sodium Hydroxide, Cholesterol, Sodium Chloride, Disodium Phosphate, Potassium Chloride, Potassium Chloride, Potassium Chloride, Potassium Chloride .
Saturation of the elixir under the eyes with active substances is unusually high. When creating the Product formula, no compromises were made on component prices for its final quality. As a result, the New Formula of the Elixir under the Eyes was created, which is not inferior in quality to the best products in the world in this group of cosmetics. Decoration of the COLWAY Cosmetic Line.