Colway Graphite natural collagen C012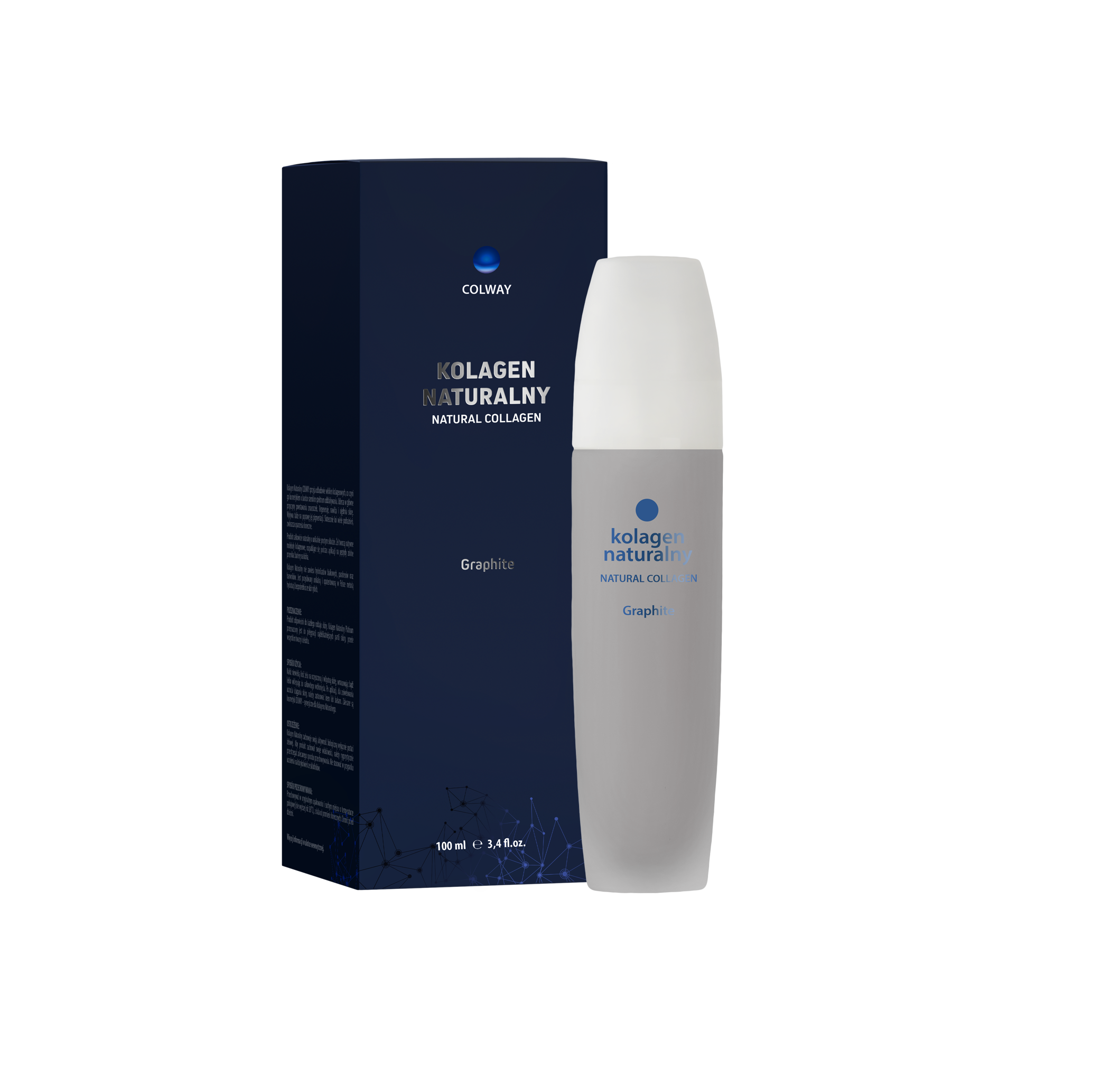 | | |
| --- | --- |
| brand | Colway |
| delivery | in stock |
€ 74,34
€ 0,-
€ 15,61
€ 0,-
0%
21%
0%
€ 89,95
description
Graphite Natural Collagen Colway
Graphite Natural Collagen is in the form of a gray gel and is widely used in the care of hair, nails and other parts of our body where collagen is lacking or insufficient. If you want to strengthen and smooth hair, regenerate fragile and brittle nails, soothe sore joints, heal cracked heels, reduce the visibility of varicose veins and dilated capillaries on the body or soften keratinized and thickened skin, then Natural Collagen Graphite is the right product for you. Using it regularly intensively rebuilds and nourishes, and perfectly stimulates skin regeneration processes, thanks to which you can observe quick and satisfactory effects.
Components:
Collagen - activates the production of our natural collagen, naturally stimulating the cells responsible for its production (fibroblasts).
Elastin - sister collagen protein. It is necessary to maintain perfect elasticity of the skin. Thanks to it your skin will be more resistant to stretching and changing shape.
Lactic acid - will take care of beautiful skin, ensuring even and radiant color. This organic component gently smoothes keratinized epidermis, perfectly brightens your skin and stimulates its cells to produce valuable ceramides that hold water in the skin.
Benefits:
completely natural product
improves hair condition
heal cracked heels
take care of smooth feet, elbows and heels
rebuild the hair structure
perfect for hand care
nail plate reconstruction
regenerate the skin and stimulate collagen production processes
How to use
Spread Collagen Graphite over the skin, massaging until completely absorbed. Then, after a few minutes (about 2), apply a care balm.
Due to its darker pigment, we recommend applying it to less visible areas (feet, hair, legs) on cleansed and moisturized skin with water. It should be noted that it has exactly the same properties as other collagens, but it has a different degree of purification. That is why it is the most economical type of collagen.
Collagen for hair: Apply collagen to freshly washed, towel-dried hair. Massage into the scalp and hair, after a few minutes (about 2) we can apply cosmetics for hair styling.
Collagen for feet: Massage collagen into washed wet feet. After a few minutes (about 2) we massage the care cream.
You can increase the care effects of Natural Collagen Graphite by regularly using a Peeling or Body Scrub with collagen. The best results are obtained by using other products from the COLWAY care line with Collagen. They can therefore act synergistically and increase their effectiveness.
INCI composition
aqua, collagen, caprylyl glycol, elastin, lactic acid
Natural Collagen is a product free from any dyes or chemical flavors. Its composition consists only of: pure non-allergenic proteins, water, stabilizers and lactic acid. For many people allergic to hundreds of ingredients of creams, gels and conditioners - this preparation will be the only possible face skin care.