Orientana Ayurvedic hair oil amla and bhringraj OR068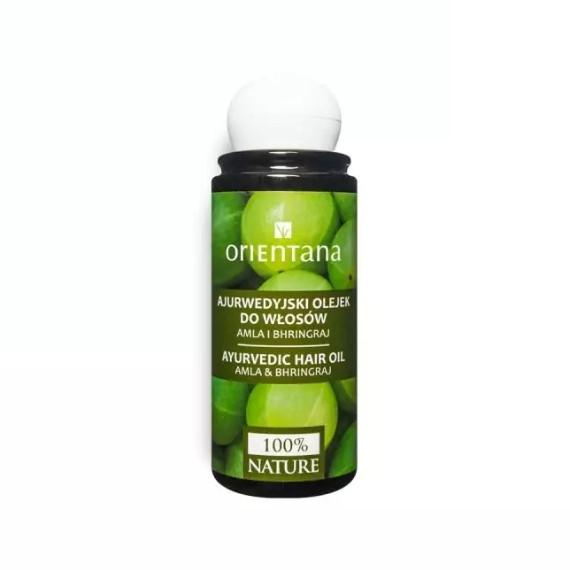 | | |
| --- | --- |
| brand | Orientana |
| delivery | in stock |
€ 14,83
€ 0,-
€ 3,12
€ 0,-
0%
21%
0%
€ 17,95
description
AMLA & BHRINGRAJ Ayurvedic Hair Oil
105 ml
100% natural hair oil formulated in line with Ayurveda. Rich in amla (Emblica Officinalis) and bhringraj (Eclipta Alba) well known in India as efficient hair remedy. Both herbs deeply strenghten hair and prevent hair loss and graying. High content of herb extracts accelerates the hair growth circle and improves skin condition.
HOW TO USE:
Massage a few drops of oil on the sculp and the rest on the hair - leave for a few hours or the whole night. Wash hair.
HOW OIL WORKS:
- hair growth stimulation
- hair colour strenghtening and prevention of premature graying
- prevention of hair loss
- sculp nourishing
- hair strenghtening
Ingredients:
Amla


Emblica officinalis commonly named Indian gooseberry. It is a major ingredient in most ayurvedic products, rich in vitamine C. Regular use of amla strengthens the hair follicles, stimulates hair growth, keeps dandruff away, straightens your hair, prevents split ends and nourishes your hair. It also prevents premature graying of hair and stops hair loss. Our amla comes from India.
BHRINGRAJ (Eclipta Alba)
It grows in India, China, Thailandi. It is used in ayurvedic treatment for hair loss and premature graying. Due to its anti inflamatory and antifungal activities helps in the treatment of dandruff, skin irritation and excessive dryness. It restores a healthy shine and softness to hair.
Oil Sesamum indicum (sesame oil) - nourishes hair, regulates sebaceous glands
Cocos Nucifera Oil (coconut oil) - protects the hair from progressive damage scales, nurtures and nourishes
Prunus Amygdalus Dulcis Oil (almond oil) - moisturizes hair
Bacopa monnieri Oil (Brahmi) - strengthens the scalp stopping hair loss, reduces fragility
Ocimum Sanctum Leaf Extract (Holy Basil) - protects the scalp, strengthens the hair.
Melia Azadirachta Seed Oil (Neem) - has anti-bacterial properties, fights inflammation of the skin, including dandruff.
Cyperus Rotundus Root Extract - antibacterial and stimulate hair growth.
Symplocos Racemosa Bark Extract (Lodhra) - protects the scalp.
Lawsonia Inermis Leaf Extract - reconstructs the hair, gives them life and splendor to which it provides deep hydration and leaves them soft. Moreover, it makes our hair is nourished, thicker and shiny.
Acacia concinna Fruit Extract (Shikakai) - cleanses the hair without prejudice to the protection of the lipid. It normalizes the glands of the scalp dandruff holding back. It makes hair silky smooth.
INCI:
Sesamum Indicum Seed Oil, Cocos Nucifera Oil, Prunus Amygdalus Dulcis Oil, Eclipta Alba Oil, Olea Europea Fruit Oil, Emblica Officinalis Fruit Powder, Helianthus Annuus Oil, Bacopa Monnieri Oil, Ocimum Sanctum Leaf Extract, Tocopherol (wit. E), Melia Azadirachta Seed Oil, Cyperus Rotundus Root Extract, Symplocos Racemosa Bark Extract, Cinnamomum Camphora Linalooliferum Leaf Oil, Rosmarinus Officinalis Leaf Oil, Lawsonia Inermis Leaf Extract, Trigonella Foenum-Graecum Seed Oil, Acacia Concinna Fruit Extract, Vitis Vinifera Seed Oil