Orientana Face cream mulberry and licorice OR021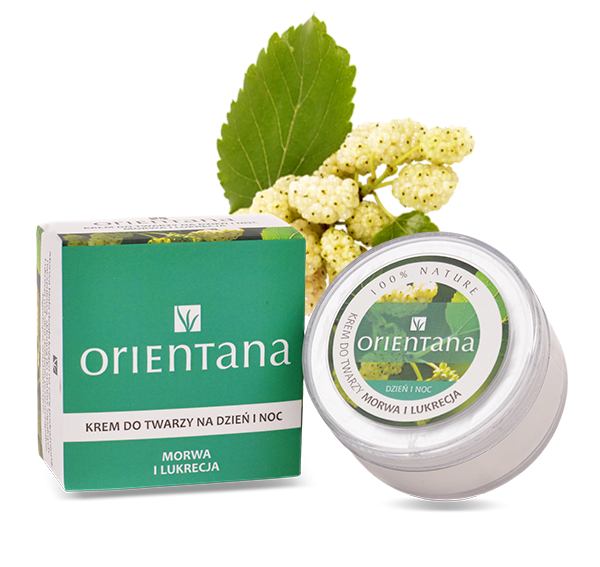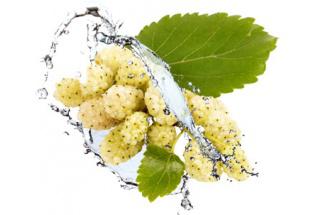 | | |
| --- | --- |
| brand | Orientana |
| delivery | in stock |
€ 16,49
€ 0,-
€ 3,46
€ 0,-
0%
21%
0%
€ 19,95
description
Face Cream MULBERRY & LICORICE
50 gr
Natural face cream based on sunflower oil. Also rich in shea butter, almond oil and grapefruit oil. for every day care. The cream can be used for both day and night care. Licorice root is strongly soothing and anti allergic. It soothens skin inflammation and irritation, has anti bacterial effect, diminishes skin reddening and strengthens blood vessels. Mulberry extract firms the skin, protects it and acts anti aging,
For oily and problematic skin.
- Relieves inflammation of the skin
- Reduces irritation
- Reduces redness of the skin
- Strengthens blood vessels
- Suppleness
- Protects and inhibits the aging process
How to use:
After cleansing, apply the cream on the face, neck and neckline. Apply in the morning and/or in the evening. It is ideally suited as a make-up base.
Ingredients:
White mulberry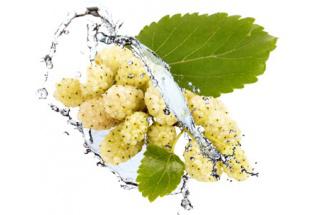 White mulberry has been known in Chinese Medicine for centuries. Chinese medical practitioners have used several parts of this plant to treat various health conditions. The leaves are most precioous. The herb is used to treat itchy skin and eczema. The acrid and warm properties help bring blood to the skin, dry the secretions and promote healing. It has also been the whitening cosmetic for Japanese geishas. Mulberry cleans and rejuvenates the skin, treats skin problems and makes skin sogt and radiant.
Aloe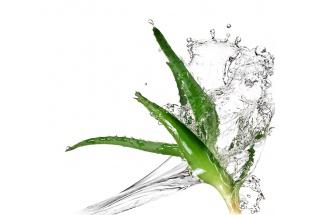 Aloe contains over 200 intensive cosmetic substances. Effectively moisturizes the skin, soothes irritations and has anti-inflammatory effect. It regulates natural moisture levels and counteracts the effects of dehydration. Nourishes the skin, slows the aging process, supports the action fibroblasts - cells responsible for collagen and elastin production. In Orientana cosmetics we use aloe vera from the plantation located in India and Taiwan.
Shea Butter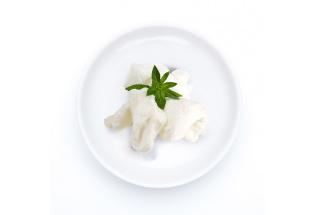 Shea butter is an ivory-colored fat extracted from the nut of the African Shea Tree. What makes Shea butter an extraordinary skin care and an amazing skinhealer is its richness in precious constituents, which include unsaturated fats, essential fatty acids, phytosterols, vitamin E and D, provitamin A and allantoin. All these are natural and make Shea butter a excellent food for your skin.
Almond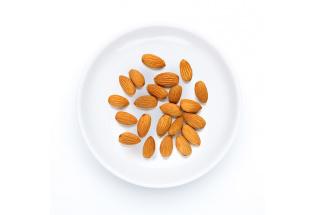 The almond is a species of tree native to the Middle East and South Asia. Information on almonds is as old as days before Christ. Almonds yield almond oil which is rich in many natural nutritional substances such as proteins, mineral salts vitamins A,E,D and B. Almond oil has been proven to have a calming effect on skin allergies and inflammation. It has both the ability to soothe as well as treat skin allergies. Almonds have a way of trapping moisture in the skin keeping it moisturized at all times.
Oil sunflower seeds - rich in phospholipids, carotene and vitamin E. Softens, smoothes and firms the skin. It has an anti-radical and anti-inflammatory.
Shea butter - rich in fatty acids and vitamins A, E and F - regenerates and renews damaged skin. Smoothes and softens the skin while protecting it from harmful factors, among others, UV. It stimulates the activity of cells for rejuvenation. It soothes irritations, accelerates healing processes, reduces allergic reactions.
Oil from the seeds of grapefruit - promotes the growth and regeneration of the epidermis, strengthens, nourishes and tightens the skin, cleanses and tightens pores, the department antiseptic, refreshes, refreshes and tones the skin, reduces the formation of wrinkles.
Almond oil - contains many natural nutrients such as proteins, minerals and vitamins A, E, D and B group by which affects the firmness and elasticity of the skin and delay the aging process. It also contains linoleic and oleic acids, which soften the skin and strengthen the lipid barrier of the skin.
The extract of licorice root - supports cellular regeneration and accelerates the healing of wounds, minor skin damage and pimples. It is an effective moisturizing agent; glycyrrhizin has strong water-binding properties of the skin. Due to the presence of flavonoids and isoflavones has a strong antioxidant activity. Helps fight acne; It antibacterial and reduces the production of serum.
Sesame oil - a strong antioxidant. Eliminates free radicals which destroy collagen and elastin in connective tissue of the dermis.
The extract from the leaves of the white mulberry - moisturizing and anti-inflammatory as well as by content feniflawonoidów whiten.
Wheat germ oil - rich in essential fatty acids, vitamins, minerals, lecithin, enzymes, phytosterols, carotenoids. Perfect for damaged skin and tired.
Kojic acid - a mushroom cultivated in Japan has antibacterial properties and prevents the formation of free radicals. Slightly bleach, and a well-hydrates.
Rose water - regenerates sensitive skin of dry prone to bursting blood vessels.
The aloe vera juice - firmly and effectively moisturizes the skin, soothes irritations and has anti-inflammatory.
Avocado oil - Deeply penetrating and moisturizing with high antioxidant properties. It contains vitamins A, D, E, B vitamins, lecithin. It contains a large amount of natural phytosterols. It stimulates collagen metabolism, promotes regeneration of tissue, accelerates healing and reduces inflammation.
Ferment milk from goat's milk - smoothes fine wrinkles, restores softness and improves tone.
Vitamin E - inhibits the skin aging process
Oil apricot - moisturizes and smoothes the skin
Oil from the fruit of the rose - eliminates the inflammation of the skin
Safflower oil - from the oil contains the highest concentration of linoleic acid, and a very high dose of vitamin E (approx. 34%). Regulates the hydration and elasticity of the skin.
Oil Ylang-Ylang fragrant - aphrodisiac improves mood
Oil from the seeds of carrots - Especially recommended for mature skin aging. Intensively regenerates, moisturizes and nourishes the skin.
INCI:
Aqua( Water), Butyrospermum Parkii (Shea) Butter, Caprylic/Capric triglyceride, Plant Glycerin, Helianthus Annuus (Sunflower) Seed Oil, Glyceryl Stearate, Stearic Acid, Santalum Album (Sandalwood) Oil, Curcuma Longa Root Extract, Isopropyl Myristate, Glyceryl Caprylate, Ceteyl Alcohol, Citrus Grandis (Grapefruit) Seed Oil, Prunus Amygdalus (Almond) Dulcis Oil, Glycyrmiza Glabra (Licorice) Root Extract, Sesamum Indicum (Sesame) Oil, Morus Alba (Mulberry) Leaf Extract, Triticum Vulgare Germ (Wteatgerm) Oil, Kojic Acid, Rosa Damascena (Rose) Flower Water, Aloe Barbadensis (Aole) Leaf Juice, Undecylenoyl Phenylalanine Persea Gratissima (Avocado) Oil, Lactobacillus/Lac (Goat milk) Ferment, Tocopherol (vit. E), Prunus Armeniaca (Apricot) Kernel Oil, Rosa Canina (Rose) Fruit Oil, Crocus Satvius (Saffron) Oil, Cananga Odorata (Ylang, Ylang), Flower Oil, Daucus Carota Sativa (Carrot) Seed Oil,Citric Acid, Sodium Benzoate (from berries), Potassium Sorbate (from berries).