Orientana Oriental rich body butter lemongrass and comfrey OR047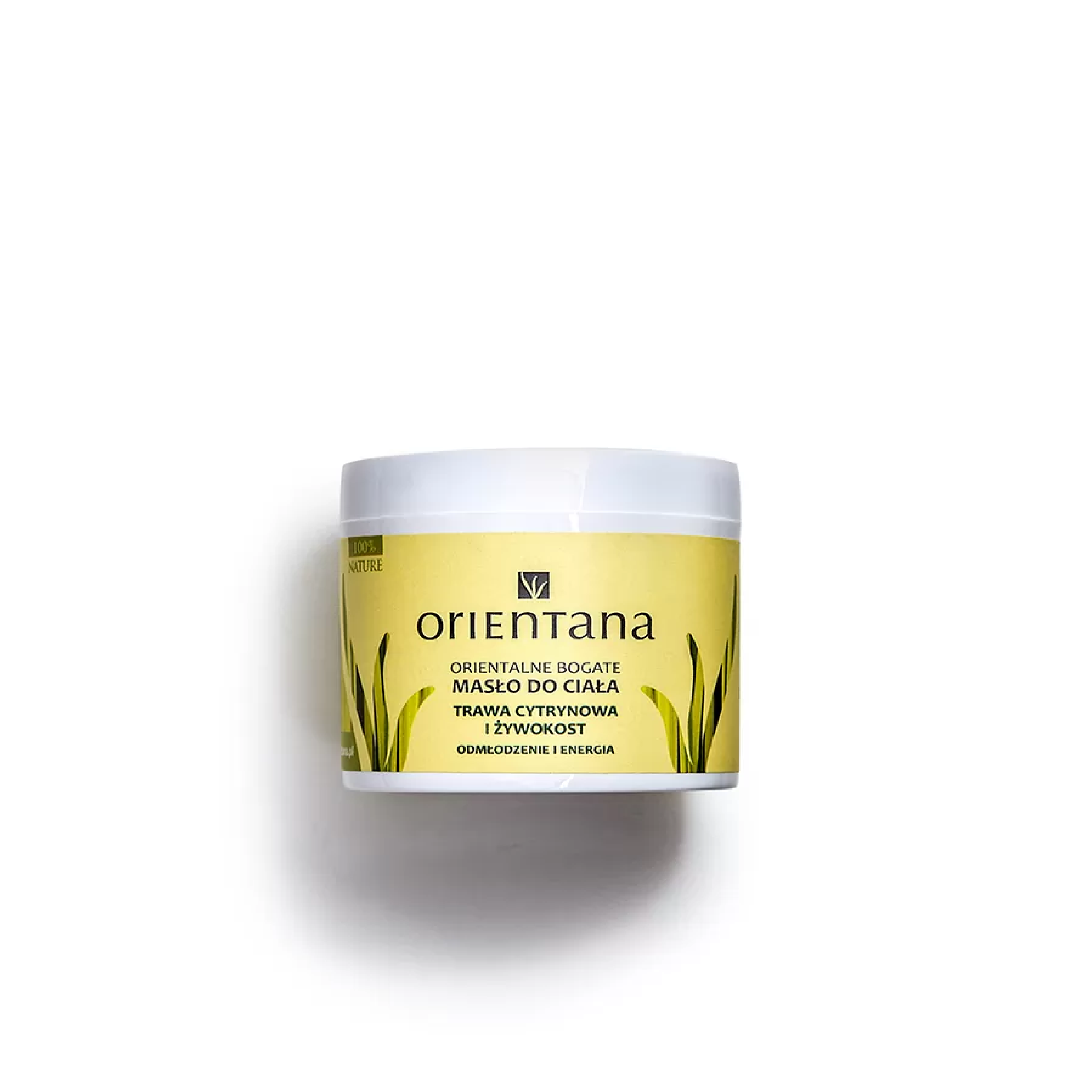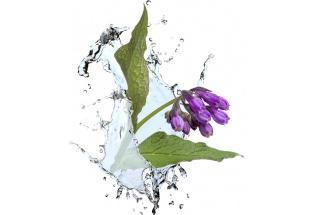 | | |
| --- | --- |
| brand | Orientana |
| delivery | in stock |
€ 14,83
€ 0,-
€ 3,12
€ 0,-
0%
21%
0%
€ 17,95
description
Oriental Rich Body Butter LEMONGRASS & COMFREY
100 gr
This creamy butter rich in nourishing substances is perfect for the skin. It leaves the skin feeling soft and smooth, moisturized as well as covered by beautiful fragrance. Our Oriental Rich Body Butter is based on kokum butter, sunflower oil and enriched by lemongrass oil and comfrey extract.
Effect:
- moisturizes the skin
- gently oils
- nourishes and firms
- regenerates the skin
- absorbs well
Ingredients:
Comfrey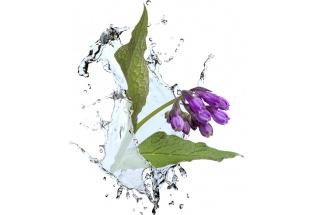 Comfrey grows in Central Asia. The root is rich in allantoin, alkaloids and amino acids. Allantoin is a natural soothing, anti-irritant, and skin protectant that increases the water content of the extracellular matrix which provides structural support to cells and is an important part of connective tissue. Allantoin also increases the smoothness of the skin; promotes cell replication; and promotes the healing of wounds, burns, and scars. Comfrey was well known in acient Greece where was used for regeneration of broken bones by soldiers of Alexander the Great.
Kokum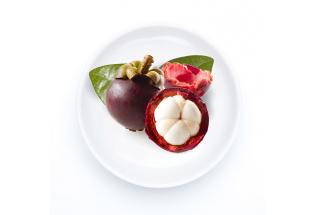 The exotic butter is obtained from the Indian tree Garcinia Indica. It is used in skin care products because of its ability to soften skin and is effective on ulcerations and fissures of lips, hands and soles of feet. It helps reduce degeneration of the skin cells and restores elasticity. The kokum butter we use is from Goa, India.
Shea Butter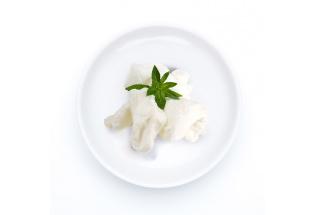 Shea butter is an ivory-colored fat extracted from the nut of the African Shea Tree. What makes Shea butter an extraordinary skin care and an amazing skinhealer is its richness in precious constituents, which include unsaturated fats, essential fatty acids, phytosterols, vitamin E and D, provitamin A and allantoin. All these are natural and make Shea butter a excellent food for your skin.
SUNFLOWER OIL - rich in phospholipids, carotene and vitamin E. Softens, smoothes and firms the skin. It has an anti-radical and anti-inflammatory.
BUTTER KOKUM - recognized in Asia, little known in Europe, oil obtained from the fruit Garcinia Indica tree growing in India. Extremely rich in unsaturated fatty acids and vitamin E. Perfectly softens and tones the skin. Ideal for dry skin care, calloused and rough - perfect drying and prevents sagging, and also helps in regeneration. Very well absorbed, does not clog pores.
LEAF JUICE ALOESU - soothes, moisturizes
SHEA BUTTER (KARITE) - rich in fatty acids and vitamins A, E and F - regenerates and renews damaged skin. Smoothes and softens the skin while protecting it from harmful factors, among others, UV. It stimulates the activity of cells for rejuvenation. It soothes irritations, accelerates healing processes, reduces allergic reactions.
OIL SEED grapefruit - cleanses, moisturizes and strengthens the skin. Lightens discolorations, firming.
Comfrey leaf extract - moisturizing effect regenerująco-. Perfect for the care of dry skin, flabby and irritated. Contains natural allantoin and proteins and pro-vitamin B6, which speeds up the process of tissue regeneration, wound irritation and skin regeneration.
SESAME OIL - oxygenates, nourishes, anti-inflammatory
OIL bitter orange - improves skin hydration and anti-aging work
Wheat germ oil - rich in essential fatty acids, vitamins, minerals, lecithin, enzymes, phytosterols, carotenoids. Used for skin damaged and tired.
Lemon grass oil - stimulates blood circulation and metabolism of the skin by helping in the fight against cellulite. Anti-inflammatory, antibacterial, and also refreshes and soothes the skin.
EXTRACT turmeric - slows down the aging process
OIL juniper - helps fight cellulite
INCI:
Aqua, Helianthus Annuus (Sunflower) Seed Oil, Garcinina Indica (kokum) Seed Butter, Caprylic/Capric triglyceride, Glyceryl Stearate, Aloe Barbadensis (Aloe) Leaf Juice, Plant Glycerin, Butyrospermum Parki (Shea) Butter, Stearic Acid, Isopropyl Myristate, Glyceryl Caprylate, Cetyl Alcohol, Citrus Grandis (Grapefruit) Seed Oil, Symphytum officinale Leaf Extract, Sesamum Indicum Oil, Citrus Auriantium (Bitter Orange), Triticum Vulgare Germ Oil, Cymbopogon Schoenanthus (Lemmongrass) Oil, Citrus Medica Vulgaris Peel Oil, Tocopherol (vit. E), Citric Acid, Sodium Benzoate (from berries), Potassium Sorbate ( from berries), Curcuma Longa Root Extract, Juniperus Communis Fruit Oil.